It's Frozen Four time, baby birds.
After months of racking up wins against weaker competition, BC now faces its toughest opponent of the season on Friday afternoon. Up to this point, the only real tests the Eagles have had have been five matchups with Northeastern, who the Eagles dispatched with relative ease last weekend in the quarterfinals.
Fifth ranked Clarkson poses a challenge for the Eagles that they have yet to face this season. Clarkson's defense is better than any other team's on BC's schedule at 5th in the country, and they have a top 6 offense to go with it.
Make no mistake about it: This is going to be a dogfight for BC.
Last Week
BC handily defeated Northeastern for the 5th time this season in its NCAA quarterfinal at Conte Forum.
Clarkson played familiar foe Quinnipiac in its NCAA quarterfinal, winning its first game in four tries against the Bobcats this season by a score of just 1-0. The Golden Knights scored 10 seconds into the game, and it was all they needed.
Big Questions
How does Clarkson try and play BC? Will they try to pack it in and slow BC down, or will they give it a go at racing up and down the ice? Can BC take advantage of the big ice sheet at UNH to help their speed game, or will they be kept quiet on the boards far from the net? Can BC push the thought of the NCAA finals out of their heads entirely and focus on this game? Can BC stay out of the penalty box, or will Dana "Taser" Trivigno continue her march toward the BC program record for PIM? Why is there a train station in the Whitt's parking lot? And for that matter, why is there only one track on that Amtrak line? What happens if a train breaks down? Is there any way for another train to get by? That seems like poor planning in my opinion.
Random, Possibly Incorrect Fact From Clarkson's Wikipedia Page
Clarkson's wiki page proudly proclaims that their 2014 NCAA women's hockey championship is, and I quote, "the first NCAA ice hockey title won by a school in St. Lawrence County." That is an incredibly restricted thing to brag about.
Given that the only universities in that county are Clarkson, St. Lawrence, SUNY-Potsdam, SUNY-Canton, and something called "the SUNY-ESF Ranger School," I suspect it's a direct dig at SLU, their rival from the next town over.
In which case... HA, nice. We're pro-Clarkson, anti-SLU folks here in Chestnut Hill.
Random, Definitely Correct Fact From My Own Experience Traveling To Clarkson
There's a place in Potsdam called "Eben's Hearth" that bills its buffalo wings as "famous" and "Where People Who Know Wings Buy Their Wings" (excessive capitalization is [sic]). Given the fame, Joe and I stopped up there two years ago when we went for the NCAA quarterfinal.
I have been known to "know" a wing or two in my day, and I can confirm that I did indeed buy their wings, as the motto suggests. However, the fact that I know wings and happened to buy theirs is merely a technicality. They were the most disappointingly average wings I've ever had in my life. It was the purgatory of buffalo wings.
Anyway, that's obviously a very important tidbit for tomorrow's BC vs. Clarkson semifinal which takes place 330 miles from Potsdam in Durham, NH.
Game Day Beverage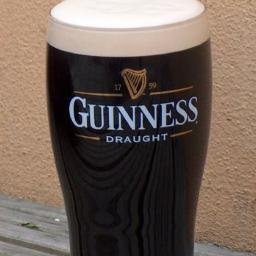 Guinness
Boston College is Irish. Clarkson is distinctly not Irish. Happy St. Patrick's Day.
Gametime Song of the Week
Paramore -- Now
Friday's game against Clarkson is on Friday. It is not on Sunday. It is not against Minnesota, and it is not against Wisconsin. The game against Clarkson is against Clarkson. Play for now. Do not play for the final. If you play for the final, you will not be in the final.
BC has done a very good job of taking each game one at a time. As hard as it is to stay focused with the final weekend upon us, now would be a bad time to break that habit.
Staff Predictions
Grant Salzano
BC 3, Clarkson 1 -- My total throw-ish-at-the-wall prediction is that BC scores exactly three against Shea Tiley, with a possible fourth if there's an empty netter on the docket. Coincidentally, if you take Shea Tiley's save percentage (.931) and multiply it by the number of shots BC averages per game (43.7), you get 40.7 saves, and... exactly three goals.
Clarkson's offense is going to score. They're deep enough where they pose more of a scoring threat than Northeastern, in my opinion. But having said that, they'd be stupid to try and get into a race and match horses with BC. They'd be better served being opportunistic and taking advantage of the chances BC's aggressiveness gives them.
The Hot Take Key of the Game™ for both teams is to score first. If BC gets on the board first, they will probably keep the lead the rest of the game. If Clarkson scores first, BC might come back, but they'll be chasing the game rather than controlling tempo.
Joseph Gravellese
BC 4, Clarkson 1
Brian Favat
BC 3, Clarkson 1
Laura Berestecki
BC 5, Clarkson 2
Arthur Bailin
BC 5, Clarkson 1
John "CoachJF" Fidler
BC 4, Clarkson 2
Dan "New Guy" Rubin
BC 4, Clarkson 2
Caleb Childers
BC 4, Clarkson 1