vs. 
Northeastern University Huskies (10-1-1, 6-0-0 HEA) @ Boston College Eagles (14-0-0, 8-0-0 HEA)
It's the biggest game of the season so far for the #2-ranked Boston College women's hockey team as they put their undefeated record on the line against the #5-ranked Northeastern Huskies. This game features a clash between arguably the two best players in women's college hockey: the nation's leading scorer, Kendall Coyne of NU, and reigning Patty Kazmaier Award winner Alex Carpenter of BC. Sparks are sure to fly when these two Olympic stars hit the ice. Can the Eagles pass their toughest test yet?

Time: 7:00 PM
Date: Friday, November 20, 2015

Place: Kelley Rink at Conte Forum, Boston, Mass.

Capacity: 7,884


Pairwise Rankings: NU #5, BC #2
Team Offense: NU 5.25 GPG (#2 in NCAA)... BC 5.21 GPG (#3 in NCAA)
Team Defense: NU 2.33 GA/G (#14 in NCAA)... BC 1.14 GA/G (#3 in NCAA)

Amy Poehler GIF That Summarizes Our Excitement Level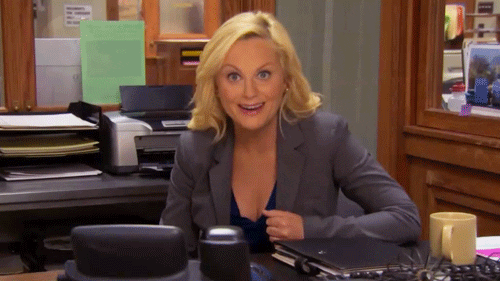 Send Us Your Thoughts:
Heading to the game this evening at Kelley Rink? Watching along at home online? Send us your thoughts. Leave a comment here or interact with us on twitter over at 
@bcinterruption
. Let's go Eagles!