It took a while, but the Boston College Women's Hockey team finally seems to be playing up to its high preseason expectations. In the first contest of the season against #5 BU, the Eagles struck early and often and came away with a very strong 4-1 win at Walter Brown Arena.
It wasn't perfect, but it was a near complete effort against the Terriers who had started to pull away from the Eagles a bit in the Pairwise Rankings.
We were going to use this photo for the article but decided against it... however, it's a good preview for what we saw out of the Terriers today.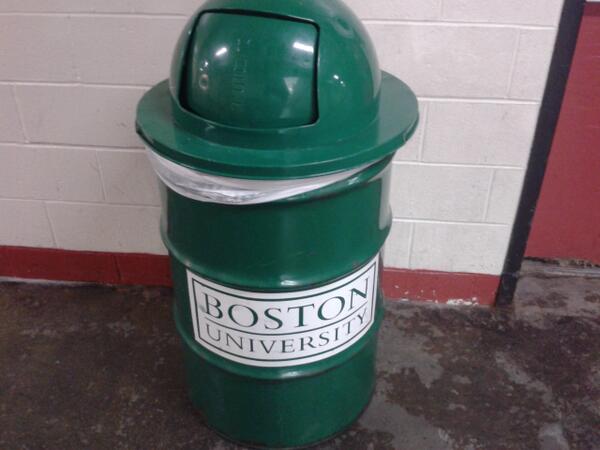 Joseph Gravellese
Let's go to the footage, shall we?
Goal #1 -- 10:09 of the 1st period: Dana Trivigno (Emily Field, Kate Leary)
BC 1, BU 0
Ten minutes into the first period and we have our first BC goal. The Eagles actually pocketed one about 5 minutes in but it was waved off after a pretty quick review despite being called a goal on the ice. But BC don't care.
This one was about as easy as it gets. But that's what happens when you totally forget about a player. And that's exactly what BU did with Dana Trivigno.
After skating around the back of the net there is just no one accounting for her. She stands right next to a gaping net until a half-hearted wave of the stick by BU's Taylor Holze (#24) tries to, I don't know, let her know she's there, or something. But it didn't do much good.
After Kate Leary gets destroyed into the boards (drawing the And-1 power play after the goal as well), Emily Field picks up the loose puck and finds the waiting Trivigno on the opposite side of the crease. LAY UP.
But BC wasn't done there.
Goal #2 (GWG) -- 12:08 of the 1st period: Andie Anastos (Emily Pfalzer)
BC 2, BU 0
Just two minutes later, BC gets such a quick, unexpected goal that a couple of the BC players don't even celebrate right away.
I've been looking forward to breaking this one down since it happened. Look at how deep into the corner Pfalzer skates before cutting in to wrap behind the net. I don't blame BU goalie Kerrin Sperry for biting on it either, because Pfalzer's position made her (what appeared to be) such a non-factor that Sperry couldn't possibly have expected her to make anything of it.
But Anastos was quietly going to the net completely unaccounted for. There are four scarlet and white jerseys within 5 feet of her when she scores this goal, but not one of them has a clue that she's quietly coasted all the way into the attacking zone for the feed from Pfalzer until the puck is in the back of the net.
Anastos is in traffic but with no one trying to disrupt her it turns into an easy goal for the Eagles, and a deceptively pretty one at that.
After one period it was the Eagles on top with a 2-0 lead and all kinds of momentum. Shots were 9-6 BC, at an arena that is notorious for being terribly inaccurate with shot counts. Make no mistake about it: The first period was all BC.
A penalty with 5 seconds left in the first put BC on the right foot in the second period, and though they didn't score on the ensuing power play, it didn't take them long to cash in for goal #3.
Goal #3 -- 6:15 of the 2nd period: Kate Leary (Andie Anastos, Jackie Young)
BC 3, BU 0
Hooooo baby, was this nice. Definitely the goal of the game and it really got the Eagles feeling like this would be their night.
Andie Anastos, fresh off her goal in the first period, makes a beauty of a drop pass to Kate Leary. Only one Terrier really makes a decisive move on who to defend, and she chose unwisely. Leary gathers in the puck and gives a toe drag that Johnny Gaudreau would have been proud of and absolutely buries the roof job with a snipe off the post and in. Poor Sperry didn't have a prayer.
The last 5 minutes or so of the second period was the only part of the game where the Terriers had the upper hand, and were it not for some heroics by senior goaltender Corinne Boyles, this game might have gone in another direction.
But after BU got one back to make it 3-1, Boyles made what might be the save of the year thus far. BONUS GIF!
What the whatttttt...
She makes a hell of an initial stop with her shoulder that barely slows down the puck enough for her to whip around and blindly keep the puck out with some behind the back blocker sorcery...
My goodness.
That save was a sign that it just wasn't BU's night, and even when they got their best pressure of the day, BC's goalie was there to save the day.
On to the third period, where BC put a skate to their throats and didn't let up until the buzzer sounded.
Shots for the third period were a ridiculous 15-3 (in fact, it started out 15-1, with BU getting a couple distant shots in the last minute or so to make it somewhat less embarrassing). BC hit two posts in the period but did manage to cash in on a big insurance goal to answer the Terriers' 2nd period blitz -- this time, on the power play.
Goal #4 (PPG) -- 6:15 of the 3rd period: Melissa Bizzari (Taylor Wasylk, Kate Leary)
BC 4, BU 1 -- FINAL
We see that a common theme of this game is BC players sneaking into prime scoring positions and BU players being completely oblivious to their presence. We get that here, although #21 for BC, Lexi Bender, fakes us all out in making us think she is going to be the one to get the easy tap-in goal as there wasn't a Terrier around her for miles.
But instead, it's Melissa Bizzari who gets right into the low slot and buries the juiciest of juicy rebounds off the pad of Kerrin Sperry.
The funny thing about this play is that BU's #10, Alexis Woloschuk, who is initially jostling with Bizzari in the slot, completely abandons her player in favor of clearing out a BC skater who doesn't even end up factoring in to the play. But that's what happens when you have more skaters than they do -- you've got to pick somebody. And once again, we have a BU player who chose unwisely.
And that was all she wrote in a particularly satisfying BC victory over the Terriers down on their own ice. Here are the full highlights:
After coming through a murderer's row of opponents in their last five games against #2 Cornell, #2 Cornell, New #2 Harvard, and #5 BU, with a 2-1-1 record -- BC fans have to be feeling pretty good about how it turned out. That's a brutal stretch of hockey, with all four games on the road. Most encouraging of all was that after playing down to their opponents for much of the year, BC played their best hockey of the entire season and looked great in these games against top competition.
That's got to give BC hope for a very strong second half. But the Eagles have to be careful, as they are coming in to a stretch of what can only be described as seven consecutive "trap" games against not-good-but-really-not-terrible teams... the exact type of opponent that pulls off upsets all over the place during Olympic years when the best players on the best teams are gone. Northeastern, Vermont, New Hampshire, and Providence are all teams with the potential to upset the Eagles. If the BC can come out of this stretch unscathed, it would be a monumental achievement. You would likely see the Eagles climb up into the top 5 or 6 in the Pairwise Rankings going into the Beanpot against these same BU Terriers.
As it sits right now, BC held firm to the #10 spot in the rankings but brought themselves right into the cluster of teams within a game or so of being firmly into the tournament field, or firmly out of it. BU's loss crippled their RPI to the tune of 0.128 points -- for those of you unfamiliar with RPI, that is a freaking ton. The Terriers fell to 8th place in the Pairwise and dangerously close to falling out of a tournament spot.
BC gets right back into the action this weekend with a home-and-home against Northeastern on Saturday and Sunday. Both games are at 2pm, with the Saturday game taking place at Conte Forum and Sunday's contest taking place down the road at Matthews.
Time for a big 2nd half run.