GAME FACTS
Who:
#53 Arizona State Sun Devils (2-8-0) at
t-#5 Boston College Eagles (9-2-1, 5-0-1 HEA)
What:
Nonconference game
When:
Sunday, November 13, 2016, 3:00 PM ET
Where:
Conte Forum, Boston, MA
Why:
The Eagles welcome the nation's newest program to town for the first time in a Sunday matinee. BC is riding the nation's longest winning streak and will be expected to extend it to 11 today, but Arizona State will have other ideas, coming off their biggest win in program history last night, topping UNH 5-4 in OT.
How to Watch:
The game can be streamed via BCEagles.tv
How to Listen:
WEEI 850AM, WZBC 90.3 FM, or BCEagles.com
BC STORYLINES
Boston College looks to remain undefeated at home today. The Eagles are 3-0-0 at Conte Forum and will be looking to rack up some home victories after lots of travels to start the season.
Balanced scoring: Boston College doesn't have anyone in the national top 25 in points, with their highest scorer, Austin Cangelosi, at #28 (8-5—13). Despite this, BC's offense is #6 in the nation, averaging 4.08 goals per game. The Eagles may have an opportunity to keep their scoring balance going strong against one of the nation's weakest defenses (5.10 GA/game).
Getting White going: Colin White certainly has been no slouch so far this season, with 9 points in 11 games, but we're all still waiting for White to really explode and start imposing himself as a dominant force this season, as he was in BC's home opener against Colorado College.
Power play opportunities: ASU leads the nation in penalty minutes and is 56th in the nation on hte PK (74.3%), so BC should have some opportunities to improve on their power play success rate. BC has climbed to #33 nationally on the power play (15.62%) but still has a ways to go to be among the top teams in that important category.
York's return: Jerry York is back on the BC bench after an extended absence due to an eye procedure.
GETTING TO KNOW THE OPPONENT
Arizona State is in year 2 as a D1 program, playing as an independent. Understandably, they've struggled, going 2-8 so far - but they did pull off a shocking win last night, topping UNH in overtime at the Whittemore Center.
ASU has one of the nation's weakest defenses, conceding 5.10 goals per game. They've been on the wrong end of some heavy defeats: 7-0 to Harvard, 6-1 to Northeastern, and 9-2 to Notre Dame.
Still, they've shown some improvement over last season, powered in part by BU transfer Robbie Baillargeon (6-3--9) and junior Dylan Hollman (1-6--7). ASU also has a few impact freshmen, including defenseman Brinson Pasichnuk, who has 6 points in 10 games.
THE NUMBERS GAME
As we mentioned earlier, BC should have plenty of opportunities to score today, given Arizona State's defensive struggles, and their issues on the penalty kill.
Other relevant numbers: Arizona State is fourth from the bottom in possession, at 42.5% CF, and 42.4% in close situations. In close situations, BC has crept up to #3 in that metric, at 59.6% CF.
Three goaltenders have split time for ASU this year: Robert Levin (.883 SV%), Ryland Pashovitz (.839) and freshman Joey Daccord (.856). As you can see, none of them have a very good save percentage thus far. However, Levin performed well last night at the Whitt, making 32 saves in ASU's win.
THE EXPECTATIONS GAME
BC will be expected to win this game handily. Arizona State will certainly give their best today, but if the Eagles don't pull away, that would be troubling.
RANDOM FACT ABOUT ARIZONA STATE
Shortly before going D1, Arizona State won the 2014 ACHA club hockey national championship.RANDOM THING I FOUND OUT RESEARCHING STATS FOR THIS ARTICLE EVEN THOUGH IT IS UNRELATED TO THIS SERIES
CAT PREDICTIONS
Cat predictions are brought to you by the adoptable cats of the Gifford Cat Shelter, the nation's oldest cageless, no-kill shelter - located near BC on Undine Road in Brighton.
Mimi made the prediction for this week and went with a bold choice: an Arizona State win, 5-4. Fear the cats.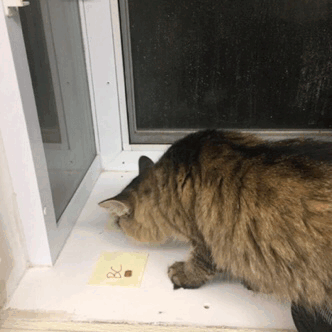 HUMAN PREDICTIONS
Joe Gravellese - BC wins 8-1. Arizona State will be a tough out for anyone in about 2-3 years. For now, this should not be a contest.
Grant Salzano - BC 4, Arizona State 0
Laura Berestecki - BC 7, Arizona State 1
Arthur Bailin - BC 10, Arizona State 0
Thomas Greenberg - BC 5, Arizona State 1
John Fidler - BC 7, Arizona State 1
PREDICTION CONTEST
No prediction contest for the UNH game so we're recalling the Maine series - wins of 6-1 and 3-2. Laura basically nailed it, picking 5-1 and 3-2. JPDot came closest on the fan side, picking a sweep - 4-2 and 2-1.
Standings
JPDot 4
Laura Berestecki 2
CoachJF 1
Gifford Cats 1
Joe Gravellese 1
BCJacket5 1
Arthur Bailin 1
princisb 1
LEAVE US YOUR THOUGHTS
Heading to the game this afternoon? Excited to get your first look at Sun Devil Hockey? Think BC will extend their unbeaten run? Leave us your thoughts here or over on Twitter at @bcinterruption. Go Eagles!