February marches on for BC hockey. It's a temporary break from Beanpot hype as the Eagles resume the league schedule with a home game against the UNH Wildcats. It's also going to be a special night at BC as the school will host another "Jerry York Night" in honor of the legendary coach's 1000th win.
at
Friday, February 53, 2016; 7:00 PM; Kelley Rink at Conte Forum; Boston, Mass.

THE MATCHUP
Storylines
UNH has a potent attack: On paper, this could be a high-scoring game tonight. Dick Umile seems to have added some more high-end talent to a UNH program that has suffered some lean years by their standards, but it's all up front. Andrew Poturalski and Tyler Kelleher are Hockey East's two top scorers and comprise the heart of UNH's strong attack, ranked #12 nationally. The 'Cats also feature the league's top power play, converting at a 25.7% clip.
...and a leaky defense: Defense, however, has not been UNH's strong suit; nor has goaltending. In what's a very bad combination, UNH is 3rd-worst in the league in terms of most shots on goal allowed per game (33/gm) while also having the starting goaltender, Daniel Tirone, with the second-lowest save percenteage of all regulars in the conference (.895). Unsurprisingly, this combination means UNH gives up a *lot* of goals—their defense is 2nd worst in the league, ahead of only UMass.
The Hockey East scoring race: While Andrew Potarulski and Tyler Kelleher are the two top scorers in Hockey East in overall play, Colin White is the scoring leader in conference games, with 25 points to Potarulski's 22. These three all have a good shot at taking home Hockey East player of the year honors, and we'll get to see the battle play out on Kelley Rink ice tonight.
Interlude for a GIF of a presumably wild-cat catching a fish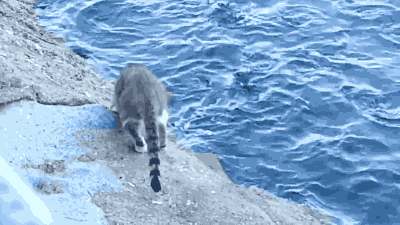 #CATPREDICTIONS: By the cats of the Gifford Cat Shelter
Mitzy is a super friendly cat available for adoption at Gifford. She's an attention hog, so she'd like to be the only cat in a home! Mitzy was recently featured on the 
Mewostern Bias live stream
, but she's so pretty that we're giving her another shot at predictions.
Unsurprisingly, the cats went with the Cats. Mitzy is predicting a 3-1 UNH win.
Mitzy is one of many cats available for adoption at the Gifford Cat Shelter, located right across from BC at 30 Undine Road in Brighton. Founded in 1884, it's the nation's oldest no kill and cageless shelter. You can find more information at
www.giffordcatshelter.org
.
While half of the Beanpot may be over, it's not too late to pledge some money to the #MeowsternBias fundraiser. 
Click here for details.
Predictions Contest
**Please note: We're a few weeks behind tabulating the fan prediction standings. Need to sit down and do a few weeks of catching up to make sure the standings are accurate. Keep making those predictions and apologies for the delay! We aim to have it fully up to date after the Beanpot.**
Predict the correct winner: 1 point
Get the margin of victory right: 2 points
Nail the correct final score: 3 points
| | | | |
| --- | --- | --- | --- |
| Name | Predictions | GPS: | Points |
| Grant Salzano | BC 3, UNH 1 | | 23 |
| Joe Gravellese | BC 5, UNH 3 | In the house for #JY1K Night | 20 |
| Laura Berestecki | BC 4, UNH 2 | | 20 |
| Arthur Bailin | BC 5, UNH 2 | | 16 |
| AJ Black | | | 24 |
| John Fidler | | | 16 |
| Mitzy / The Gifford Cats | UNH 3, BC 1 | Meow | 20 |
| New "Dan Rubin" Guy | | | 19 |
| Caleb Childers | | | 7 |
| | | | |
| Brian Favat | | | 1 |
Staff Prediction Summary:
BC (3) UNH (1)
Leave your thoughts and predictions on the game below. Can BC stay hot and hold on to first place in the Hockey East standings with a win tonight over one of their old rivals?