It feels like things have fallen apart alarmingly quickly for the Boston College men's hockey team. After carrying a 13-1-1 record in to their final game before the mid-season break, BC has dropped three straight games. More troublingly, BC is dealing with serious depth issues—none more worrisome than the injury to goaltender Thatcher Demko, which will likely force freshman Ian Milosz into the spotlight tonight in his first ever collegiate appearance. The kid hasn't even taken a college class yet, but will be counted upon to be the stopper as BC looks to stop their skid against the defending national champions.
The bad news is...well, everything about that first paragraph. The good news is, this is the stuff legendary performances are made of. Can Milosz and the Eagles make it happen this weekend?
at
Friday, January 8, 2016; 7:00 PM; Conte Forum; Boston, Mass.

at
Saturday, January 9, 2016; 7:00 PM; Schneider Arena; Providence, R.I.
THE MATCHUP
| | | |
| --- | --- | --- |
| Record | 13-4-1 (6-1-1 HEA) | 14-2-1 (4-0-2 HEA) |
| Pairwise | 15th | 5th |
| KRACH | 13th | 5th |
| Team Offense | #5 (4.00 G/GM) | #9 (3.56 G/GM) |
| Team Defense | #3 (1.72 GA/GM) | #5 (1.89 GA/GM) |
| Streak | L3 | L1 |
Storylines
Milosz's possible debut: Goaltender Ian Milosz spent the fall semester with the Junior Bruins and was on the radar for BC to come in for the 2016-17 season. When goaltender Chris Birdsall suffered a concussion that has forced him out for significant time, BC needed to act and add a backup goalie to the roster. Unfortunately, it looks like the guy they brought in for depth is going to be counted on to start in some key games. Let's see how he does. He's played well for the Junior Bruins.
A full strength lineup, at least up front: The Eagles haven't skated with a full lineup of forwards since their home game against Northeastern in early December, dealing with a spate of injuries, suspensions, and Colin White missing due to World Juniors. The full offensive lineup will be back tonight and they'll be called upon to step it up from previous performances. Will the lines look the same as they did in the first semester or will York try something new?
Nick Ellis: can he keep it going?: Heading in to the break, Providence goalie Nick Ellis was actually putting up better stats than Jon Gillies put up last season—alarming as that may be for all of Providence's competition. National college hockey people seem to be waiting and waiting for Ellis to come back to earth. Will it happen?
Inspirational Game Day GIF
The walls seem to be caving in around the BC hockey team. Everything is bad. But...there's a chance to make a stand and turn things around.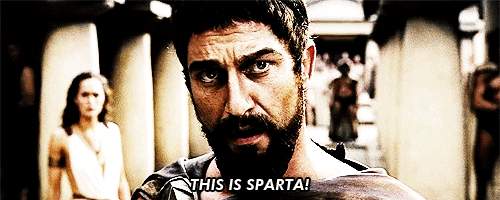 #CATPREDICTIONS: By the cats of the Gifford Cat Shelter
Brave, an energetic and friendly young cat, made the Gifford predictions this week. She's deaf, so I don't know how well she understood the rules, but she quickly picked Providence for both games. Brave is guessing Providence will win 2-1 on Friday and 4-1 on Saturday. 
You can visit Brave and friends at The Gifford Cat Shelter, located right across from BC at 30 Undine Road in Brighton. Founded in 1884, it is the oldest no kill and cageless shelter in the U.S. More information is available at http://www.giffordcatshelter.org/.
Predictions Contest
The cats legit were the only ones to sweep the predictions last week. Crazy times. Let's hope they don't repeat the feat this week.
Scoring rules if you'd like to play along at home:
Predict the correct winner: 1 point
Get the margin of victory right: 2 points
Nail the correct final score: 3 points
Name
Predictions
GPS:
Points
Grant Salzano

Providence sweeps: 4-2, 4-2

Filling us all in from BCI Nerve Center in Connecticut
20

Joe Gravellese

Friday: BC wins 6-4
Saturday: Providence wins 3-1

In section OO, hoping the turnaround starts tonight
18
Laura Berestecki

Friday: BC wins 2-1
Saturday: 3-3 tie

At Conte Forum
16

Arthur Bailin

Friday: PC 4-3
Saturday: BC 5-4

On press row

14
AJ Black

PC sweeps. 3-1. 4-2



19
John Fidler

Friday: 3-3 tie
Saturday: 4-2 Providence

A big believer in Jerry, but an even bigger believer in streaks until proven wrong.
15
Brave the Cat/ The Gifford Cats

PC sweeps, 2-1, 4-1

MEOW: Revenge of the meow

18
New "Dan Rubin" Guy

PC Sweeps 3-1 & 5-2



16

Caleb Childers

7
Kwani Lunis


0
Bridget Klish



0








Staff Prediction Summary:
PC (10) BC (3) Tie (2)
Fan Prediction Standings after last week:
JPDot 18 points
bostoncollegenyr 16 points
princisb 14 points
airforce987 17 points
pjpj23 12 points
cam_dezak 11 points
seobe 8 points
mig1168 6 points
95dougie95 7 points
we are bc 5 points
bcmike22 6 points
b0mberman 4 point
bcmurt09 4 points
tommykay 4 points
totheheights 2 points
bceagles66 2 points
rmbc81 1 point
spillerhighlife 1 point
eagles2015 2 point
eagleeye9184 1 point
Leave your thoughts and predictions on the series below. Can BC get 2016 off on the right foot?