Despite a strong weekend against BU, one major thing was left undone: #JY1K. Coach York's 1000th win continues to loom as an impending milestone and the Eagles will surely want to pick up a W tonight and get that potential distraction in to the rear view mirror as we approach the season's stretch run. They'll have a great opportunity to do just that tonight in Amherst when the Eagles take on the UMass Minutemen, who are 1-10-0 in their last 11 games. On Saturday night BC returns home to take on UConn, a team that started off ice cold but has shown improvement in recent weeks.
at
Friday, January 22, 2016; 7:00 PM; Mullins Center; Amherst, Mass.
at
Saturday, January 23, 2016; 7:00 PM; Kelley Rink at Conte Forum; Boston, Mass.

THE MATCHUP
Storylines
JY1K: When the Eagles were in the midst of their winning streak back in the fall, it looked like Jerry York would likely hit the thousand win milestone during calendar year 2015, possibly in Florida at the Estero tournament. A series of unexpected hiccups prevented that from happening and now the milestone lingers a bit, carrying on to late January. Will tonight be the night?
Renewed power play strength: The last two weekends, BC's improved output on the power play fueled them toward improved results. It was a late Ian McCoshen bomb on the PP that won them Friday night's game against BU, and it was the power play that helped BC rescue a point after falling behind PC 4-1 the week before. BC is now facing two teams looking to make upset bids against them and there's no better way to bury such teams than to make them pay for taking penalties. Can BC keep up their PP surge?
Demko in command: We didn't know as of this time last week if Thatcher Demko would be playing against BU. Not only did he play, he played fairly well, particularly on Saturday night at Agganis Arena when he made a number of big stops to help preserve the tie. With two teams on the docket that have struggled to score, let's see if Demko can return to his early season ways of posting donuts on the scoreboard.
Inspirational JY1K GIF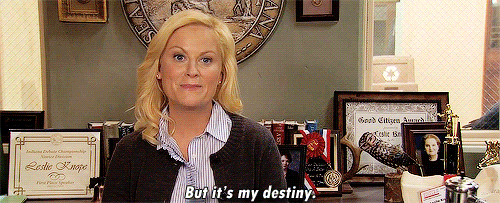 #CATPREDICTIONS: By the cats of the Gifford Cat Shelter
Chubby Love (we did not name this cat) is a super sweet and lazy guy up for adoption at Gifford. He does not, however, appear to be a BC fan.
Chubby Love was quick to decide that UMass will defeat BC, predicting a final score of UMass 4 BC 1.

He took more time when predicting the outcome of the BC/UConn game, but ultimately predicted a 1-0 UConn win. 


You can visit Chubby Love and friends at The Gifford Cat Shelter, located right across from BC at 30 Undine Road in Brighton. Founded in 1884, it is the oldest no kill and cageless shelter in the U.S. More information is available at http://www.giffordcatshelter.org/.
In addition, don't forget to support the #MeowsternBias Beanpot fundraiser, raising money for the shelter. $10 feeds a shelter cat for a month! For details on the fundraiser click here.
Predictions Contest
It was a pretty low scoring week all around. The Gifford Cats have moved in to a tie for 3rd place. LOL. Scoring rules if you'd like to play along at home:
Predict the correct winner: 1 point
Get the margin of victory right: 2 points
Nail the correct final score: 3 points
Name
Predictions
GPS:
Points
Grant Salzano
BC 5, UMass 0
BC 4, UConn 1

Will actually be attending the game at UMass, do not adjust your sets!
21

Joe Gravellese

BC 4, UMass 3
BC 4, UConn 1 (ENG)

Feeling like these could be trap games after BU.
19
Laura Berestecki
BC 6, UMass 3
BC 3, UConn 1

Jerry York 1000, Everyone Else 0



19

Arthur Bailin
BC 4, UMass 1
BC 5, UConn 3

(some sort of Mets or Jets comment)

15
AJ Black

BC 5, UMass 3
UConn 3, BC 3

20
John Fidler


16
Chubby Love the Cat/ The Gifford Cats
UMass 4, BC 1
UConn 1, BC 0
Meow
19
New "Dan Rubin" Guy
BC 5, UMass 2
UConn 3, BC 2


17

Caleb Childers

7
Kwani Lunis


0
Bridget Klish



0
Brian Favat
BC 4, UMass 1
BC 4, UConn 1
#JY1K
0
Staff Prediction Summary:
BC (7) UMass Amherst (1) Tie (0)
BC (5) UConn (2) Tie (1)
Fan Prediction Standings after last week:
JPDot 19 points
bostoncollegenyr 19 points
princisb 17 points
airforce987 19 points
pjpj23 16 points
cam_dezak 11 points
seobe 8 points
mig1168 6 points
95dougie95 10 points
we are bc 5 points
bcmike22 9 points
b0mberman 4 point
bcmurt09 6 points
tommykay 4 points
totheheights 2 points
bceagles66 2 points
rmbc81 1 point
spillerhighlife 1 point
eagles2015 6 points
eagleeye9184 1 point
Leave your thoughts and predictions on the weekend below. Will BC pick up #JY1K tonight at Amherst or will it linger on in to Saturday night's tilt against UConn? Or longer? Leave your thoughts below!