Yikes.
Weeknight games can be a bit of a wild card. The teams are out of their normal weekly practice schedule and there often isn't much of a crowd to speak of.
As it turned out, only one team showed up at Conte Forum on Tuesday afternoon, as Boston College hockey put up a blistering seven goals on the UMass Minutemen in a 7-0 rout that would have made the women's hockey team proud.
The Eagles found their legs right out of the gate, putting up a big 12-5 shot margin on the Minutemen in the first period and keeping UMass from tallying their first shot until 12 minutes into the game. But despite a pair of power plays, the Eagles couldn't quite get on the board.
Good gosh a'mighty would that change in the second period as the Eagles would put up six in the middle frame alone.
Boston College Goal #1 (GWG): 1:33 of the 2nd period
Adam Gilmour (Unassisted)
BC 1, UMass 0
You wish it could always be this easy for BC, but as you'll see the further on we go, UMass had some terrible defensive miscues in the game. This one is a result of a couple of Minutemen standing around -- the first at the red line who Gilmour just chips right past, and the second who is in no-man's-land trying to defense a two on one.
Gilmour waits for what must have felt like forever for UMass goalie Nic Renyard, and finally gets the goalie to break, finding a space through the 5 hold to put BC ahead.
Boston College Goal #2: 6:45 of the 2nd period
Travis Jeke (Chris Brown, JD Dudek)
BC 2, UMass 0
Say hello to your Boston College fourth line.
JD Dudek, whether he touched the puck or not, deserved the secondary assist just as much as Chris Brown did. He just throws down his man like a rag doll, allowing Brown to skate behind the net looking for a play.
Seeing the opportunity, Jeke makes his way to the net and is left alone on the doorstep by two UMass defenders right at the moment that Brown feeds it across the crease. That's an easy tap-in, and a great goal out of your fourth line.
Boston College Goal #3: 8:11 of the 2nd period
Scott Savage (Colin White, Matty Gaudreau)
BC 3, UMass 0
I mentioned UMass' poor defense, but the Eagles really forced the issue on a lot of these plays. This goal is from the top of the faceoff circle, but it was one of BC's many chances that resulted in taking the puck to the net from a good angle.
It's Colin White taking the puck to the boards as Savage waits up top. White makes the play over to Savage who -- why not? -- puts the puck on net from a great angle, and it finds its way through.
Now things just get silly.
Boston College Goal #4: 11:16 of the 2nd period
Ryan Fitzgerald (Miles Wood, Colin White)
BC 4, UMass 0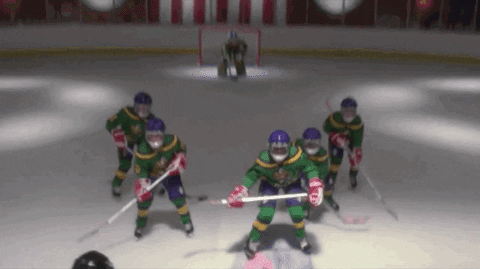 How does this even happen?
This is as close to a full-on Mighty Ducks "Flying V" as you'll ever see in an organized hockey game.
A UMass player makes a total bonehead decision to pinch at the blue line right as two other BC skaters are starting to head out at full stride. Once he moves in for the pinch, he is completely screwed, and then it's a matter of BC deciding how they want to put the puck in.
Bucci was a fan.
Boston College goes legit Flying V on UMass tonight. #cawlidgehawkey https://t.co/SXUvlAv0dc

— John Buccigross (@Buccigross) November 4, 2015
Anyway, if there was a moment where UMass really let things fall apart, it was that goal.
Boston College Goal #5: 11:27 of the 2nd period
Colin White (Ryan Fitzgerald)
BC 5, UMass 0
Just 11 seconds later, BC capitalizes on UMass' worst turnover of the night, lighting the lamp for the 5th time in just 10 minutes and chasing Renyard from the game. Frankly, his replacement didn't have a much better time.
Boston College Goal #6 (PPG): 15:10 of the 2nd period
Teddy Doherty (Colin White, Casey Fitzgerald)
BC 6, UMass 0
BC's power play got into the action to finish off the 2nd period touchdown. UMass just wants to go home at this point. There's a couple passes but what gives Doherty the ability to shoot is White setting a bit of a mini-pick after the last pass, skating between Doherty and the one defender coming out.
Doherty throws it in, and based on the scoring it appears to have gone clean through.
Boston College Goal #7 (PPG): 13:01 of the 3rd period
Teddy Doherty (Matty Gaudreau, Chris Brown)
BC 7, UMass 0 -- FINAL
Both teams really just wanted the game to end by the time the third period got rolling, and despite a couple UMass attempts to get on the board, there was nothing really there. Doherty just kind of throws one on net late in the third to nail the PAT for good measure, and mercifully (at least for the Minutemen), that would do it.
Thatcher Demko posted his 4th shutout in 5 games, which is a BC record (a team record -- let alone one goalie in all 5 games). Of note is that BC may be without Ryan Fitzgerald for Friday's game against Maine, as he was given a Game DQ midway through the second period after a nasty scuffle.
You don't want to lose players, but there's a lot to like about guys sticking up for each other after someone wants to goon it up with their teammate.
We'll see how that plays out and if BC is able to appeal the DQ, but in the meantime, the Eagles have quietly rolled to a 6-1-0 start, their best since starting 10-1-0 in the 2012-2013 season.