vs.
Denver Pioneers (3-1-0, 0-0-0 NCHC) @ Boston College Eagles (4-1-0, 0-0-0 HEA)
Time: 7:00 PM
Date: Friday, October 30, 2015

Place: Kelley Rink at Conte Forum, Boston, Mass.

Capacity: 7,884

Official Colorado College Twitter Feed:
@DU_Hockey

Pairwise Rankings: DU #10, BC #17
Goals Per Game: DU 3.50 GPG (15th in NCAA), BC 4.00 GPG (10th in NCAA)
Goals Allowed Per Game: DU 2.00 (9th in NCAA), BC 0.60 (1st in NCAA)

Excitement Level: 8/10: 
IF YOU DON'T LIKE AMURRICA YOU KIN GITTTT OUTTTT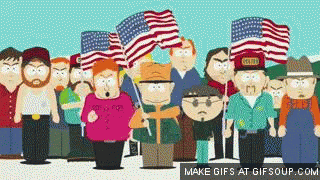 Send Us Your Thoughts:
Heading to the game tonight at Kelley Rink? Watching along at home online? Send us your thoughts. Leave a comment here or interact with us on twitter over at 
@bcinterruption
. Let's go Eagles!