Joseph Gravellese: We're at the halfway mark and as usual, Hockey East has tossed us plenty of surprises, starting from Day One and UMass-Lowell's infamous loss to Sacred Heart. At the halfway point, things are starting to settle in to the point where we know which teams are in contention to make the NCAAs and which will probably be off the mark. But there's a lot of season left.
Let's take a look at the field as play gets set to resume with this weekend's holiday tournaments.
Grant Salzano: Let's do it. What's been your biggest surprise so far this year?
JG: Just how abysmal BU has been. As I mentioned in our last chat, while they're hovering around .500, the numbers suggest improvement is not around the corner. They're averaging being otushot by 10 shots per game (!) and have the third worst offense in the league, topping only UMass and Merrimack.
With about 27 shots per game on average, they're the worst in the league in that category.
GS: Yes, BU has definitely been a pleasant surprise. Notre Dame even more so, as a lot of us predicted that they would be top 2 in the league-ish, battling for a #1 seed nationally.
But I'm going to give Northeastern the nod for biggest surprise. The Huskies are sitting at an astonishing *10th* in the current Pairwise. What?!
JG: Well, as you know, I predicted Notre Dame would have some struggles adapting to life in Hockey East. So I'm not too shocked, though I thought they'd be better than this. Their overall play has been okay, but in conference, they're struggling.
Yes, Northeastern's turnaround has been shocking. I assumed, as did most people, that if Clay Witt spent all time backing up Rawlings, he must be awful.
But lo and behold, their team goals against average is improved by nearly a full goal per game over last year. And that's making a lot of difference, while their offensive talent is clicking too.
Their team average goal differential in all games (not just in-conference) ranks 4th in Hockey East, behind BC, PC, and, believe it or not, Notre Dame.
The Irish are 7-3 in non-conference play and 3-4-1 in HEA. Welcome to Hockey East, fools.
GS: I really didn't expect much of an adjustment in moving to the new conference. But... results don't lie.
You know what the crazy thing is about Notre Dame's conference record? They have a combined 0-0-0 record against the top 5 teams in the conference standings.
JG: Ha, wow. That is interesting. Maybe playing the best will bring out their best. But I feel like it's going to continue to be a rude awakening for them. This ain't the CCHA.
Having said that, I'm sure they will beat us in that stupid outdoor game. So I'm prepared to be trolled for those comments. But whatever.
GS: We're going to badly miss McCoshen and Santini.
JG: That is a fact. Man, those two have just had a huge impact on BC this year. It's hard to even quantify -- you just know it by watching -- but their +/- and points numbers tell part of the story.
While BC is on the bad end of Hockey East's goals allowed per game list, unfortunately I would point to having one of the worst save percentages in the league as a major culprit.
The defense has been much improved. There are plenty of breakdowns, still, which does the goaltending no favors, so I'm not pinning it all on them.
But the D has improved in many facets of the game, not the least of which is the transition game, getting pucks out and starting up the offense. And those two are huge factors along with Matheson in making BC so dangerous in that regard.
IF Matheson stays --- which is a long shot --- BC could have a nasty blue line next year. But that's a topic for another day.
GS: The forwards, though, have been as advertised. Though we seem to have slowed down a bit on scoring from the freshmen.
Fortunately the upperclassmen have stepped up nicely. Gaudreau has been exactly as expected, which is pretty incredible in its own right just because of his sky-high expectations.
But Kevin Hayes is having a better season, it seems, than any that his brother had.
JG: Absolutely, Kevin Hayes has been in some respects the biggest difference between this year and last year, offensively. Fitzgerald and Cangelosi have in some way filled the hole left by Whitney.
Beyond those guys, though, I do have concerns.
It does seem like sometimes it's Gaudreau or Hayes and pray for rain. BC's top three forwards -- Gaudreau, Hayes, and Arnold -- average over a point per game. Fitzgerald and Cangelosi are just under 1 PPG.
But then after that, the next highest scorers are Savage, McCoshen... and Linell. Yes, Linell, with 9 assists on the year.
GS: When your 6-7-8 scorers are a D, a D, and whatever Linell is... that makes you scratch your head a little.
JG: Now I have hopes that Adam Gilmour (with a fairly spiffy 2-6--8 line, quietly chipping in) will get even better, but better enough, as a freshman, to make BC a team with three threatening scoring lines come tournament time? I'm not sure about that. Calnan is also hovering around that .5 PPG mark, along with Quinn Smith.
Quinn Smith produced at a much higher level last year, but that was partially a function of ice time and necessity. I'm not sure we'll see that again.
I kind of feel like moving Linell back to forward would strengthen the lines quite a bit as his speed and passing ability would be an asset on a third line. But I guess we've beat this dead horse quite a bit, haven't we? Is there a beat-dead-horse-dot-gif?
GS: I'll find one.
There you go: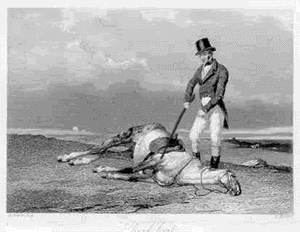 JG: Maybe that's Pirate Jerry's master plan for Trophy Season. Linell to the third line, Doherty and Savage to everyday defensemen.
I do think it would be a plus all around. But what do I know, other than to Trust.
JG: I don't understand it. Doherty and Savage have both been quite good.
But you're right: Trust.
You mentioned save percentage earlier. Goalies have been been pretty hit or miss. Both of them.
Mostly hit... But then I guess it would be a bit much to ask for perfect games every night, particularly out of the freshman.
JG: Aye.
Overall, they are both near the bottom of the save percentage chart. Now like I said, I don't pin that all on the goalies. But it's a concern.
I think everyone sort of feels the same way, which is that Billett is roughly this goalie. He's perfectly solid -- good enough to backstop the team to wins in the games they should win.
Not a liability, like we've seen on some other teams. But not an elite goalie in the league. Not only not a Hellebuyck or a Gillies, but not even an Omelette.
(Unless you're one of the people... er, I mean, that one guy... who thinks Omelette is better than Hellebuyck. LOL)
And there's hope that Demko can reach that top tier, despite being good-not-great in his limited work so far. So that's why you see a lot of people in the blogoverse pulling for Demko. And I certainly hope to see him hit his stride after he returns from WJC.
THAT SAID, the promise of potential greater returns should not give Demko an edge in the playing time battle. BC is not a rebuilding project and the best goalie should get the nod. If Billett takes the lead going into the Beanpot, he should have the opportunity to be the guy.
GS: I find it hard to see a situation, though, where he will. He has had so many opportunities to pull ahead as the #1, and will have another with Demko gone until after Frozen Fenway.
I just think you'll end up seeing Demko hit his stride.
JG: I think so too, but if there were a Trophy Game tomorrow (other than the Pittsburgh Three Rivers Cup Thing) I would probably play Billett.
GS: Who knows though. No one saw 19-0-0 coming out of Milner.
JG: This is true.
By the way, wanna talk about a team whose goaltending is a liability? Let's talk UNH.
Hockey East's leader in shot differential, averaging outshooting opponents by 33.05-26.74. Yes, only 26.74 shots allowed per game. Yet they've allowed 46 goals, behind only UMass (66 OMG) and BU (47) on the sieve chart.
That's a hefty ~.909 save percentage as a team. Woof. (Meow?)
UNH is thought of as having good team defense and has a number of highly touted blueliners. So that's a situation where you have to hope for improved goaltending if you're a UNH fan and want to see that team crack the tournament field.
GS: All the more reason why our sweep of them is going to be absolutely gigantic before all is said and done, I think. I don't think DeSmith is THAT terrible.
You're more likely to see a goalie go on a hot run than an entire D corps. And DeSmith could.
If he does, UNH is going to win a lot of games in a very short amount of time. None of which will be against us.
JG: I agree, He has been decent, career-wise. At least, much better than those numbers would suggest. They will be a tournament team, I think, but time is ticking.
About the only thing we can say with relative certainty about Hockey East right now is that UMass and Merrimack are going to bring up the rear, with the league's worst defense and offense, respectively.
Beyond that, it's a mixed bag. Heck, how have we not mentioned MAINE yet? What a job Ol' Moose Hunter is doing up there in year one. They've been pretty bad on the road, which could come back to haunt then, but on the strength of a great home record, good goaltending, and excellent special teams, they're suddenly a contender in Hockey East.
They're 0-5-1 away from Alfond Arena, but rebuilding a team starts with establishing your house as a tough place to play.
9-1 at home. Granted, not always against great competition, but they do feature the scalps of Lowell and BC. So. Good on them.
GS: Good ol' Moose Hunter. Sitting in 4th in team D and 3rd in team O. That's a quality foundation to build on.
They are another team in that clump of 16-19 in the Pairwise that could put together a little run and make the tournament.
JG: Hockey East is more fun when Maine is good, I'ma go on record as saying that.
GS: So let's put it all together. When it all shakes out, what do you think the HEA standings will be, and who makes the NCAA tournament?
JG: I was about to ask you the same thing.
GS: Alright, I'll take it first.
JG: I'll go simultaneously, so we can't cheat off one another's papers.
GS: I like BC to win the league at this point. I'm not afraid of Gillies & Company down at Providence and think we go 1-0-1 or 2-0-0 against them. That should be enough to take first, as there's a decent gap to 3rd place. So:
BC, PC, followed by Lowell, Maine, UNH, NU, Notre Dame, Vermont, BU, Mack, and UMass.
JG: Providence, BC, Lowell, UNH, Maine, Notre Dame, Vermont, NU, BU, Merrimack, UMass
Providence makes the tournament as a 1 seed. BC as a 2 seed. Lowell as a high 3 seed. UNH squeaks in as a 4. And I would not at all be shocked to see Notre Dame win the conference tournament and eke in via that route, but I think they'll end up just on the outside of the bubble when all is said and done.
Maine will miss it due to some crappy early losses but they'll be well-poised for next year. NU will miss it, but they'll be in PWR contention making the end of their season fun for the first time in a while.
GS: I say BC and PC will both make it as a 1 seed, probably with PC getting the edge and the higher rank. We would be 3rd right now if we didn't lose to Holy Cross. #Fail
JG: Actually looking at the PWR I do think Notre Dame will end up in the top 15, but it just depends on how the conference tournaments shake out if they make it or not. But I place them squarely on the bubble, I think.
GS: Lowell will be fine and will make it in no problem. But the it gets dicey.
Northeastern is 10th but I'm not sure they have the staying power. I'll give them a surprising "yes" though. They've handled a pretty tough conference schedule to this point.
I really think Notre Dame will be out, for the same reason that NU will make it: SOS to this point. They have a lot of thought games to finish the season.
Vermont, no.
Maine... they are my bubble team. I'll flip a coin...
JG: Maine I think will be in a position where they'll need to go on the road to win a 2nd-round Hockey East series to get on the right side of the bubble, and that's where it will end for them. #HotTakes
GS: My coin says yes.
I forgot about UNH. Same deal as Maine, I'll flip the coin again…
It also says yes.
Hm. Well, there you go. Somehow we'll get BC, PC, NU, Maine, and UNH into the tournament. Whew.
JG: Yeah, I don't think that's happening. I would be happy to see that, though.
With Providence, Lowell, Notre Dame, and Maine all on the schedule... I just don't see NU sticking around.
Also, the Beanpot, so they'll probably lose to Harvard. That'll be a PWR drag.
GS: You might see Maine's win against us be enough to vault them in, with that quality wins bonus thing. If I had to pick one team to make it of Maine and UNH, it would be Maine.
Maybe my "coin" should have had Maine and UNH on opposite sides. That probably would have made more sense.
Whatever. I guess that's why they play 'em.
So that's all for our first half recap. There's real hockey... what, in like 2 hours?? Whoa. Alright then.
JG: Indeed.
So, real quick, predictions:
I didn't do last thoughts or anything, because I didn't really have first thoughts.
If you have predictions for the holiday tournament, give 'em to me in bracket format. If you have 1/2 teams right in the final, you get half-points for your score prediction. 0-of-2, you get nothing.
Here are the BCI predictions. Feel free to leave yours in the comments:
Joseph Gravellese:
BC 5
Bowling Green 2
Robert Morris 4
Penn State 1
BC 4
Robert Morris 3
Grant Salzano:
BC 6
BGSU 2
PSU 3
RMU 2
BC 7
PSU 0
Dan Rubin, New Guy:
BC 5
BGSU 3
RMU 3
PSU 1
BC 6
RMU 1
Brian Favat:
BC 4
BGSU 2
PSU 5
RMU 4
BC 3
PSU 1