Team Name: New Mexico Lobos
Conference: Mountain West
Head Coach: Craig Neal, 27-7 (.794) overall, 15-3 (.833) Mountain West in 1 season with the Lobos.
SB Nation Community: Mountain West Connection
Last Year Record: 27-7 (15-3), second place in the Mountain West
Final Kenpom Ranking: 31
Key Losses: Cameron Bairstow (20.4 ppg, 7.4 rpg, 1.6 apg), Kendall Williams (16.0 ppg, 3.6 rpg, 4.9 apg), Alex Kirk (13.3 ppg, 8.7 rpg, 1.1 apg)
Key Returnees: Cullen Neal (7.1 ppg, 1.7 rpg, 1.9 apg), Hugh Greenwood (6.2 ppg, 5.1 rpg, 3.4 apg), Deshawn Delaney (5.3 ppg, 4.0 rpg, 1.6 apg)
Additions (Transfers, Recruits): J.J. N'Ganga (Northern Oklahoma College-Tonkawa transfer, from Aubervilliers, France), Jordan Goodman (Harcum College transfer, from Temple Hills, Md.), Tim Jacobs (Cochise College transfer, from Las Cruces, N.M.), Tim Williams (Samford transfer, from Floosmoor, Ill., will sit out 2014-15 due to NCAA transfer rules), Elijah Brown (Butler transfer, from Orange County, Calif., will sit out 2014-15 due to NCAA transfer rules), Sam Logwood (freshman from Indianapolis, Ind.), Xavier Adams (freshman from Flower Mound, Texas), Joe Furstinger (freshman from Rancho Santa Margarita, Calif.), Adam Cumber (freshman from Albuquerque, N.M.)
Games vs. BC: November 20 in San Juan, Puerto Rico, 5:00 p.m., ESPN2
Projected Starting Lineup:
G Hugh Greenwood, senior
G Cullen Neal, sophomore
G Deshawn Delaney, senior
F Jordan Goodman, junior
C Obij Aget, sophomore
He's a Dude: Jordan Goodman, junior forward. Goodman, a JUCO transfer from Harcum College, was the second-highest rated junior college player in the 2015 class. At Harcum, Goodman averaged 18.1 points, 6.6 rebounds and 1.7 assists per game en route to earning first team junior college All-American honors as a sophomore. New Mexico beat out schools like Oklahoma State, Temple, Georgetown and La Salle to land the services of the 6-foot-9 power forward.
All-Time Series vs. Boston College: 1-0 New Mexico
Only Ever Meeting: New Mexico 75, Boston College 57 (November 27, 2011)
How they match up with Boston College: Last year, the Lobos became the first program in Mountain West Conference history to win three consecutive conference tournaments...though this year's Lobos team will look very different than the one that accomplished that feat. Gone are the Lobos' top three scorers from a season ago--Cameron Bairstow (20.4 ppg), Kendall Williams (16.0 ppg) and Alex Kirk (13.3 ppg)--and a ton of production from last year's 27-7 team. Bairstow, Williams and Kirk were the team's only scorers that averaged double digit points last season.
Goodman is a talent and will help mitigate the loss of Bairstow, but that is simply too much production to lose without taking a bit of a step back overall and in Mountain West Conference play. Still, there are enough upperclassmen on the roster that the Lobos will be a tough out in the first round of the Puerto Rico Tip-Off.
GIF if Boston College wins: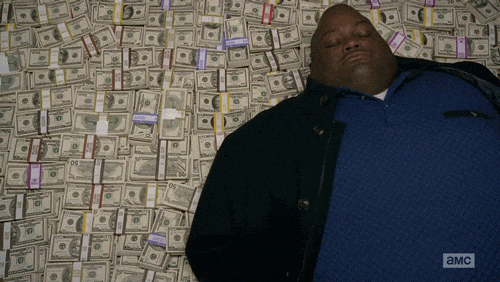 GIF if Boston College loses:
Way Too Early Prediction: New Mexico 80, Boston College 66
I want to pick BC here. I really do. With all the new pieces, I have no idea how this New Mexico team will look this year and the game is early enough in the year where BC could conceivably spring the upset. Just seems like too tall an order given where this program is at.