Team Name: North Carolina State Wolfpack
Conference: ACC
Head Coach: Mark Gottfried, 70-38 (.648) overall, 29-23 (.558) ACC in three seasons with the Wolfpack.
SB Nation Community: Backing The Pack
Last Year Record: 22-14 (9-9), tied for 7th ACC
Final Kenpom Ranking: 55
Key Losses: T.J. Warren (24.9 ppg, 7.1 rpg, 1.1 apg)
Key Returnees: Ralston Turner (10.5 ppg, 2.5 rpg, 0.9 apg), Anthony Barber (8.5 ppg, 2.0 rpg, 3.5 apg), Desmond Lee (8.4 ppg, 2.9 rpg, 1.6 apg), Kyle Washington (4.8 ppg, 3.9 rpg, 0.4 apg)
Additions (Transfers, Recruits): Trevor Lacey (Alabama transfer from Huntsville, Ala.), Terry Henderson (West Virginia transfer from Raleigh, N.C., will sit out 2014-15 season due to NCAA transfer rules), Abdul Malik-Abu (freshman from Boston, Mass.), Chris Corchiani, Jr. (freshman from Raleigh, N.C.), Caleb Martin (freshman from Mocksville, N.C.)
Games vs. BC: February 28 in Chestnut Hill, 12:00 p.m., RSN/NESN
Projected Starting Lineup:
G Anthony 'Cat' Barber, sophomore
G Ralston Turner, senior
F Lennard Freeman, sophomore
F Kyle Washington, sophomore
C Beejay Anya, sophomore
He's a Dude: Ralston Turner, senior guard. Turner played in all 36 games and started 22 times for the Wolfpack last season. He finished second on the team in scoring (behind Warren, obviously) with 10.5 points per game. Sharp-shooting guard connected on 77 3-pointers, good for seventh best in the ACC, and shot 37.2% from three, eighth best in the conference.
All-Time Series vs. Boston College: 9-8 N.C. State
First Meeting: Boston College 72, N.C. State 55 (December 20, 1957)
Last Meeting: N.C. State 78, Boston College 68 (March 9, 2014)
Last Five Meetings:
L - N.C. State 78, Boston College 68 (March 9, 2014)
L - N.C. State 82, Boston College 64 (February 27, 2013)
L - N.C. State 78, Boston College 73 (January 5, 2013)
L - N.C. State 78, Boston College 57 (March 8, 2012)
L - N.C. State 56, Boston College 51 (February 1, 2012)
How they match up with Boston College: State loses the conference's leading scorer, T.J. Warren, who had a huge role in leading the Wolfpack to the NCAA Tournament. While State will be without Warren's production, the Pack does get the other top four scorers back from last year's NCAA Tournament team. I'm not sure there's a forward on the roster that can make up for the lack of production from Warren, but there are several talented guards in the Pack's backcourt that can give BC's guards fits.
Trevor Lacey will be eligible this season after sitting out last season after transferring from Alabama. Between Lacey, Turner and Barber, Gottfried will benefit from one of the deeper backcourts in the conference. The question becomes who steps up in the front court. Freshman Abdul Malik-Abu was one of the more highly rated recruits in the 2014 class, while 6-foot-9 Beejay Anya should eat up plenty of minutes at center.
GIF if Boston College wins:
GIF if Boston College loses: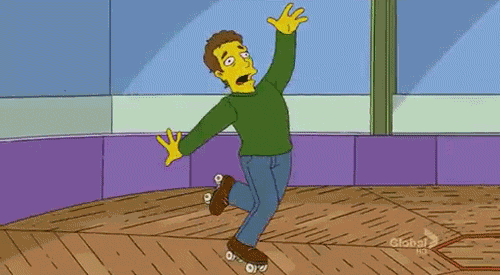 Way Too Early Prediction: N.C. State 82, Boston College 70
Like Miami, N.C. State is another opponent that's just gotten away from the Eagles over the years. This is a pretty young Wolfpack team, but I really don't see BC breaking through and getting back in the win column in this game -- even with the game in Chestnut Hill.