GAME FACTS
Who:
Boston College Eagles (6-2-1, 2-0-1 Hockey East) at
Maine Black Bears (3-3-2, 0-0-0 Hockey East)
What:
Hockey East series
When:
Friday, November 4, 2016 - 7 PM
Saturday, November 5, 2016 - 7 PM
Where:
FRIDAY: Cross Insurance Arena, Portland, ME
SATURDAY: Alfond Arena, Orono, ME
Why:
Maine starts up conference play after a decent start to the season out of conference; the Eagles look to keep rolling as their road-heavy opening stretch to the season continues.
How to Watch:
Saturday's game is on FOX College Sports Atlantic and local TV in Maine. It's also streaming via Maine's website. No stream for tonight.
How to Listen:
Stream the audio broadcast on Boston College's website or listen on WEEI 850 AM.
BC STORYLINES
BC continues to rack up the mileage on the road. By the end of this weekend, BC will have played 9 of their first 11 games away from Kelley Rink. After a home game on Tuesday night against UNH, BC heads back to the road next Friday to face Harvard.
Strength at even strength: BC continues to lead the nation in scoring margin at 5-on-5. CHN also has them as a top 10 team nationally in possession during close situations at 5-on-5 (56.9%). Are these early numbers ones that will hold up, or are they simply indicative of a somewhat weak schedule to start the season?
The goaltending split: With three games coming up in the next five days, it's fair to guess Ryan Edquist will play at least one of them. Which one? An educated guess would be Saturday night in Orono.
BC's struggles in Orono: Despite Maine's fade in recent years, BC is just 2-6-2 in their last 10 games in Orono.
GETTING TO KNOW THE OPPONENT
The Maine Black Bears were pretty much universally picked to be either #11 or #12 in Hockey East this year. That may well prove to be correct, but they've at least had a few positive signs so far this season.
The Bears started strong, with a sweep over RPI and a 4-3 win over Quinnipiac, but are now winless in their last 5 (0-3-2). They did battle Miami to a 3-3 tie in Oxford, but last week's series, 0-1-1 against dreadful Colgate, was more in line with what people were writing about Maine before the season.
Maine is reliant on youth, and freshman Mitchell Fossier has stepped up, posting an early 6-3--9 line. Nolan Vesey is second on the team in scoring with 7 points.
THE NUMBERS GAME
Maine is scoring just under 3 goals per game and allowing exactly 3 per — right around an even goal differential (23-24).
Corsi numbers indicate they've gotten outpossessed in most of their games; their overall possession percentage is 45,6%; it's 45.8% at even strength and 44.5% in close situations.
On special teams, Maine has actually been even worse than BC: a dreadful 9.3% on the power play, and 82.5% on PK (just a notch better than BC's 82.3%).
THE EXPECTATIONS GAME
Maine is obviously not expected to do much damage this season, but whenever you go on the road for two in-league you have to be happy if you come back with a split -especially given how tough a place Orono has been to play for BC. Come back with a split and the Eagles remain on track.
RANDOM FACT ABOUT MAINE
There are two sports venues named after Cross Insurance in Maine: the Cross Insurance Arena in Portland and the Cross Insurance Center in Bangor. The more you know!
RANDOM THING I FOUND OUT RESEARCHING STATS FOR THIS ARTICLE EVEN THOUGH IT IS UNRELATED TO THIS SERIES
John Muse is the all-time NCAA hockey wins leader among goaltenders.
CAT PREDICTIONS
Cat predictions are brought to you by the adoptable cats of the Gifford Cat Shelter, the nation's oldest cageless, no-kill shelter - located near BC on Undine Road in Brighton.
Big Lou was being monopolized by other volunteers, so MacDuff, a friendly 1-year old kitty took over. He was very uncooperative but eventually made his choices. He's picking BC 3-1 on Friday and Maine 5-2 on Saturday.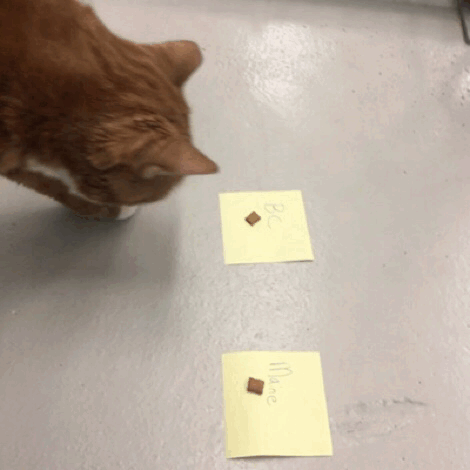 HUMAN PREDICTIONS
Joe Gravellese - BC wins 4-1 in Portland, then continues its struggles in Orono with a 2-2 tie. They come home with a 3-point weekend, which would be pretty good.
Grant Salzano - BC 3-2, BC 3-0
Laura Berestecki - BC 5-1, BC 3-2
Arthur Bailin - BC 4-1, BC 5-2
Thomas Greenberg - BC 5-3, BC 4-3
PREDICTION CONTEST
Laura and princisb split the point for last week, picking a one-goal win over PC (it was a two goal win) and a four-goal win against UMass (it ended up being a three-goal margin). Bailin was the only other staffer to pick a BC sweep.
Standings
JPDot 3
CoachJF 1
Gifford Cats 1
Joe Gravellese 1
BCJacket5 1
Arthur Bailin 1
Laura Berestecki 0.5
princisb 0.5
LEAVE US YOUR THOUGHTS
Heading to Maine this weekend? Watching along at home? Can BC keep their strong start going? Leave us your thoughts here or over on Twitter at @bcinterruption. Go Eagles!