[Ed. note--Grant is globetrotting so the rest of the team pitched in to bring you this week's Tears]
No sooner had Grant hit publish on last week's Tears of Unfathomable Sadness post on Wednesday than the tears just kept rolling. We start in Happy Valley, where, according to internal NCAA emails obtained as part of Jake Corman's lawsuit against the NCAA, at least one former NCAA official questioned whether the Association even had the authority to levy sanctions for what amounted to an off-field issue.
This prompted Penn State officials to release a statement on the public release of these emails.
We find it deeply disturbing that NCAA officials in leadership positions would consider bluffing one of their member institutions, Penn State, to accept sanctions outside of their normal investigative and enforcement process.

We are considering our options. It is important to understand, however, that Penn State is in the midst of a number of legal and civil cases associated with these matters. We therefore have no additional comment.

We also want it to be clear: Penn State's commitment to the fight against child abuse and to the implementation of best practice governance, ethics and compliance programs and policies remains steadfast.

Eric Barron
President

Keith Masser
Chair, Board of Trustees
I just...I mean, wow. I'll just leave this here.
You know what I find "deeply disturbing?" RT @SIPeteThamel: Penn State says that it finds the NCAA emails "deeply disturbing"

— Ben Swain (@TheBenSwain) November 5, 2014
I'm going to catch hell around my virtual campus, but Penn State should probably take a knee when "deeply disturbing" is being discussed.

— Ben Swain (@TheBenSwain) November 5, 2014
The drama in State College would continue later in the week. Following the release of the NCAA's emails that revealed the organization attempted to "bluff" Penn State into accepting sanctions, Pennsylvania governor Tom Corbett told The Philadelphia Inquirer that legendary coach Joe Paterno "probably" shouldn't have been fired.
"They probably shouldn't have fired him, they probably should've suspended him," Corbett told the Inquirer. "He probably should have been given the last three games, not on the sideline."
Paterno was fired on November 9, 2011 with three games left in the season. The longtime Penn State coach had announced hours before that he planned to finish out the 2011 season and then retire. With all the grandstanding this past week, glad to see that NCAA sanctions were effective in changing the culture in Happy Valley.
Moving right along.
You may have been aware of this fact. The Notre Dame Fighting Irish played in and lost a football game in the desert, falling to Arizona State 55-31. Until Saturday, the Irish hadn't given up 55 points in a game since 2000. Even better, Arizona State jumped out to a 31-point first half lead only to watch Notre Dame mount a spirited comeback...all the way to down just 3 with 6:37 left to play.
That is, before Arizona State punked the Irish by scoring three touchdowns over the games final four and a half minutes:
As one would suspect when everyone's favorite college football team loses, the GIFs, they were aplenty: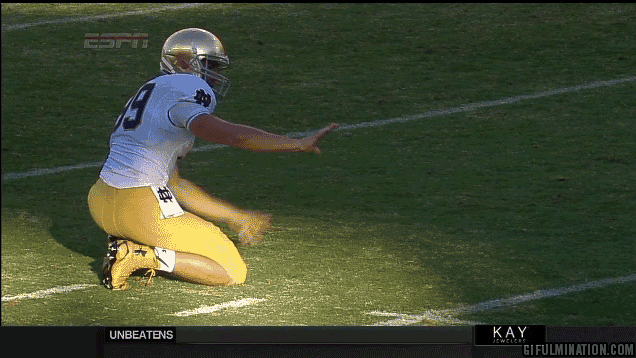 The loss likely ends the Irish's dream of earning a spot in this year's College Football Playoff. Notre Dame will probably settle for an Orange Bowl invite against the ACC champ (or representative). Don't worry though, Irish fans. I'm sure Dr. Lou will find a way to keep you in his College Football Playoff projections this week.
In other news involving college football programs that peaked during the leather helmet era, Army hosted Connecticut in a college football game at Yankee Stadium. You know, that game that Boston College was supposed to play in?
Well, Army jumped out to leads of 14-0, 21-7 and 28-14 before the Fighting Diacos mounted a furious comeback.
UConn QB Chandler Whitmer found Noel Thomas in the end zone for a 1-yard TD strike to make it 28-21. UConn THEN recovers the onside kick at their own 48 yard line with 2 minutes to play. Whitmer marches the Huskies down the field...all the way to the Army 6 yard line. Poised to punch it in for the game-tying score, UConn manages to lose in the most UConn way possible.
#Army seals win over #UConn with 100 yard pick six. That's what you get for having these stupid helmets. pic.twitter.com/VYCzRG3xQj

— CaptainTouchback (@CaptTouchback) November 8, 2014
I see UConn working on that transitive loss to Yale at the moment. GG

— BC Interruption (@bcinterruption) November 8, 2014
We call that a B1G loss for those fans who still think they belong in the Big Ten.
Speaking of team who will never be in a big time conference, New Guy's second favorite college football team was idle last week, so the Minutemen (2-7, 2-3 MAC) had plenty of time to put the finishing touches on that Blake Frohnapfel for Heisman campaign. Wait, what?
.@aadelsonESPN @AschoffESPN @BennettESPN @daveyobrien Don't sleep on @FrostedBlakes15 as a 2015 #Heisman candidate pic.twitter.com/hJcHZxBF3R

— UMass Football (@UMassFootball) November 7, 2014
Yeah...I know you guys are new at this and all, but pretty sure you're doing it wrong. And by doing it wrong we mean maybe your Heisman Trophy candidate should be on a team that's done something better than win two games. Hey whatever works for you guys. If a QB is a Heisman hopeful and nobody actually goes to see him, does he really exist?
Quick hits: What in the world is Notre Dame hockey coach Jeff Jackson doing here...Wisconsin men's hockey was swept by North Dakota to fall to 0-6-0 on the year (I believe the proper term here is "pulling a Northeastern")...won't someone think of the poor podium!...Never change, UConn. Never change.